The PCRecruiter Analytics is an add on feature which must be configured by your Analytics Power User (with the help of a PCRecruiter Trainer). Once your Analytics have been set up they are easily accessible.
Accessing your Analytics
Select Analytics from your main PCRecruiter Navigation Toolbar. This may not be pinned to your toolbar meaning it needs to be accessed from the dropdown.

Use the Analytics Menu to access the Metrics you wish to view.

Use the Filters options to further dictate what analytics are displaying on the fly.
Navigating the Analytics Menu
Key Metrics –

Key Metrics are designed to be displayed to your users. These will show each user to which they are assigned if they are on pace to meet their goal for a specified KPI by week, month, quarter or year. These will also show how their current pace differs from the previous week, quarter, month or year.

Metrics –

Metrics are in place to analyze your data by time, client, employee, job, or team.




Placements – Placements is a great area for administrators to explore as it will show how much revenue is coming in and how much work it is taking to obtain that revenue.

Administration –

This area is used for initial setup of the PCRecruiter Analytics, once it is configured the only reason to return to this area will be to establish new goals for users.

About PCR Analytics –

The Data Refresh Log will show how long it has been since the Analytics have been refreshed as well as the databases being brought into the Analytics.
Navigating Metrics
Once your Analytics have been setup to display your various Metrics, those metrics can be viewed in five different ways. It is important to see here that certain options may not be relevant to every type of Analytic being viewed.
By Time – Shows activities over time in line graph form. This can be adjusted to a predefined or custom date range in the top right toolbar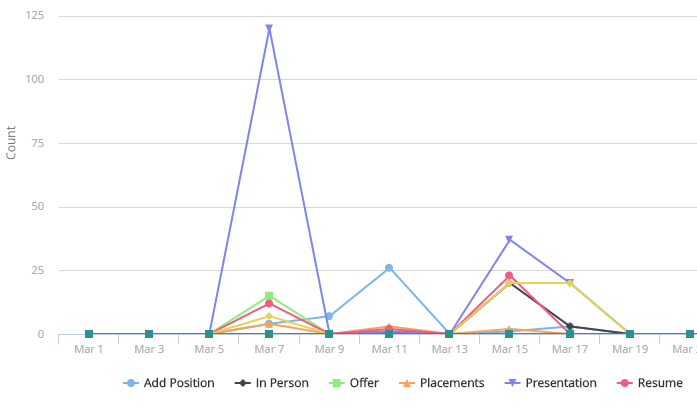 By Client – Shows your selected Metric as distributed between the activity Company records in your database.


By Employee – Shows your selected Metric as distributed between your PCRecruiter Users


By Job – Shows your selected Metric as distributed between your PCRecruiter Positions


By Team – Shows your selected Metric distributed between your preconfigured Teams

Navigating Key Metrics
Your Key Metrics will be used to see the KPIs you are analyzing (configured by the Super User during setup). Each of your Key Metrics may contain up to eight KPIs and four charts of the super users choosing. If the super user wishes to show more than this it will be shown under a second Key Metric. Key Metrics can also be assigned to particular users so they are not bogged down with information that may not be relevant to that user.
Key Metrics will be configured to analyze KPIs based on a Weekly, Monthly, Quarterly, or Yearly basis and uses color coding to show if a user is on or off pace to meet their goal. Red dictates that the users is off pace, while green dictates they are on pace to meet their goal.
Clicking on any of your Key Metrics charts will display a list of the records that comprise that chart. (Note that this detail panel can only display records from the database you are currently logged into.)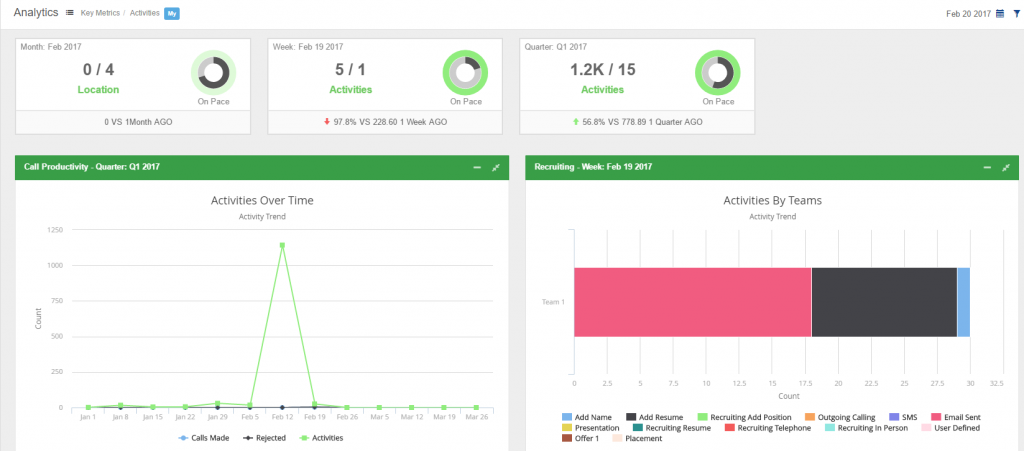 Navigating Placements
The Placements tab offers several tools for analyzing the Placement data in your database. Here you will have the option to view your Placements by Summary, Time, Value, Client, Over Time, Employee, Team, or Splits.
Applying Filters
Filters allow Analytics end users to modify the information being displayed in their Metrics, Key Metrics, and Placements.
Once accessing one of the above mentioned areas the user can select the filter options from the filter icon in the top right corner of the Analytics page to begin filtering their Analytics. From here you can filter by Database, User, Team, Company Name, Position Title, Position Status, and/or Record Type. It is important to note that by first filtering by Database the other filter options will only show options related to that database.