PCRecruiter Themes are the color scheme of PCRecruiter. A Theme can be set by each individual user for a truly customized experience. If you are someone who is working in multiple databases you can set a different Theme for each login so it is easy to see which database you are working in.
Setting Your Theme
Upon your first time logging into PCRecruiter you will see our default Light Theme, which is similar to how PCRecruiter has looked over the years. To modify this, click the Settings Icon in the top right corner of your PCRecruiter screen.

From this menu choose Change My Theme. Here you will see the current available options to choose from. Select the Theme you would like and click Save.
Upon clicking Save you will be prompted to login to PCR again in order for the changes to take effect. Click Ok to do so, followed by Leave this Page.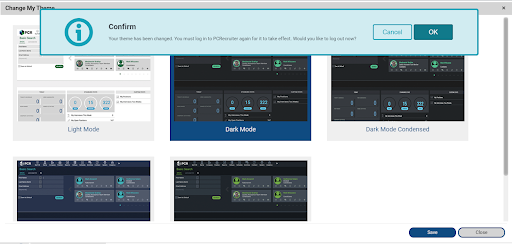 Login to PCR now as you usually will to see your new Theme! There's no limit to how many times you can change your Theme, so feel free to try to them all to see what you like best!