PCRecruiter Launcher
PCRecruiter is a cloud based software designed to run in your browser. There are items you'll interact with that continue to be earth based like Resumes. This poses translation issues while viewing an earth based resume in a cloud based software.
The PCRecruiter Launcher bridges that communication gap to ensure a smooth user experience. We recommended each PCRecruiter user download and install the PCRecruiter Launcher for optimal user experience. This is a one time download, though, it will prompt you to update if we've upgraded the file.
How do I install?
1. Select the appropriate download link for your computer type, on your PCRecruiter Login Screen. You may also use one of the following links:
Windows – https://www2.pcrecruiter.net/PCRecruiterLauncher.exe
Mac – https://www2.pcrecruiter.net/PCRecruiterLauncher.dmg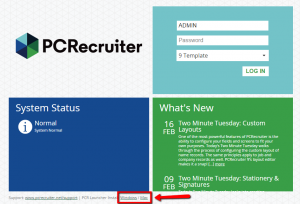 2. Click the Download to run

3. Upon logging into PCRecruiter you will be prompted to allow the Launcher. Once this is complete you will see the Launcher in your system tray.