PCRecruiter's Opt-in/Out list stores addresses or domains that PCRecruiter will skip over when sending any emails. It can also be used for managing opt-ins.
The list stores email addresses only and is not tied to any individual's name record. This allows addresses to remain opted in/out even if the name is removed and re-added later on or if there are multiple names with the same email attached.
If your PCRecruiter account has multiple databasses, the same list applies to all databases.
The 'Insert Fields' button on Form Letters includes an Email Opt Out/In link options. When emails are sent, these merge tags will be replaced with a link that the recipient can use to add/remove their email from your list.
Only users with system administration level security may directly access the list from the System area.
In the International Settings area under SYSTEM, you will find "Allow Users to Edit Candidate Email Subscriptions". If this setting is enabled, a [Set Email Subscription] link will appear next to the email address on all name records in the system. This link will allow all users, regardless of security level, to add/remove that email address from the list.
Set the Storage Location
The 'Piggyback' database holds the list data. If you have multiple databases in your account, all databases will refer to the same master list.
Click System.
Select Email Setup
Select Email Opt-In/Opt-Out List
Use the 'Piggyback Default; dropdown to select which database should store the list. In general, you'll want to pick your primary database or whichever one you use most often.
Click Save.
Within this same screen you will find options for manually adding email addresses to the list, searching the list, deleting, exporting, and importing. The 'Add to Rollup' option searches the database for any names which contain emails matched to those on this list and then adds the names to a rollup list for further modification or deletion.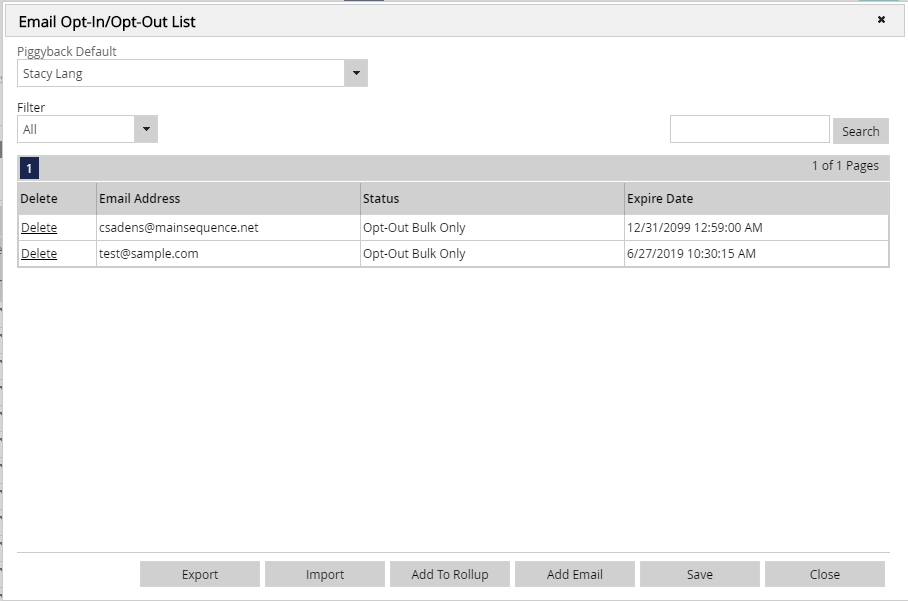 Define the Text for Links and Confirmations
You'll use the 'insert fields' to merge the opt in/out links into your form letters. The text of the link and the messages that appear after it has been opened can be configred as follows:
Click System
Select Form Letters
Choose 'Name Letters'
Open the 'Configuration' option from the Actions menu.

Link Text: Use this field to define the text of the link as it should appear in your letters.
Confirmation Text: Use this field to define the text to appear in the screen after someone uses the link.
Opt-Out Type: Use this dropdown to define whether people who click the link should be blocked from receiving all future emails or only bulk emails.
The 'Resend' options can check the activity log on a name before sending the email to prevent double-sending of any form letter, based on the subject line.

Click Save to store these settings. These will apply to all letters sent from this database.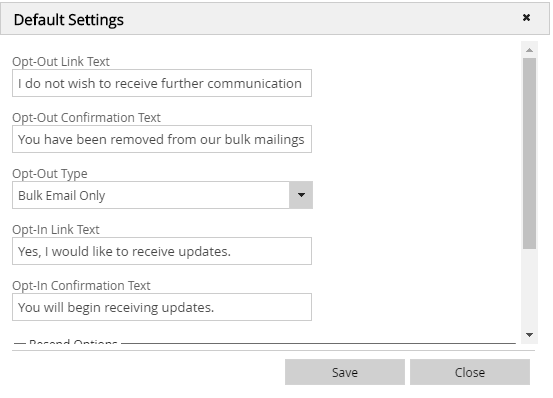 Add the Link to a Form Letter
The 'Insert Fields' button on Form Letters includes an Email Opt Out Link and Email Opt In Link option. When inserted, the email will provide the recipient with a link they can click to add/remove their address from your list. If they are not in your database, they will be prompted to manually enter their email address. If you need instructions for creating your form letter, click here.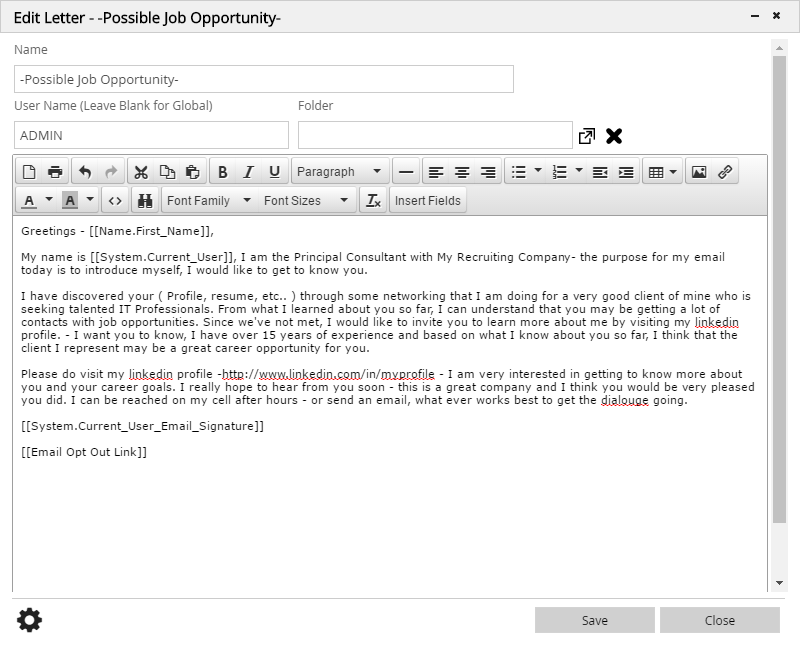 Other Details
If you use PCRecruiter Portal for MS Outlook, note that Outlook follows its own mail sending rules. The opt-in/out settings are only adhered to when you send a form letter to a rollup list, thereby going through PCR's outgoing email setup rather than Outlook itself.
The these settings apply only when someone is emailing from PCRecruiter. If you use PCR with IMAP, only emails sent from the PCRecruiter interface will be filtered by the opt-in/out list.
The opt-in/out list will affect both legacy bulk emails and Campaigns sent from PCRecruiter.
For more information on restrictions and regulations regarding bulk emails, please consult with your email provider and locale's regulations.