One of the key ways to improve your PCRecruiter workflow is to custom configure your Name, Company, and Position record layouts to display record information as you please. This allows you to:
Standardize information

Hide unused fields

Display custom niche fields you have created in the database

Add a viewing pane for notes, activities, or interviews to your front screen

Create multiple tabs to segment fields by use case
How to Customize your Record Layouts
Open a record of the type you wish to customize (Company, Name or Position).

Click the Customize action, which is found in the upper right corner of the record. If you do not see any customize option, your database administrator will need to enable the Customize Layout option in the Security settings on your user record.

Use the Columns dropdown to specify the number of columns you would like in your layout. We recommend 3 as a minimum, but if you have a wider monitor you may have room for more.

Use the Social Networking dropdown to Show/Hide the social network sidebar on your layout.

The Move/Copy to Other Database/User option allows you to move records between databases in your account, if you have multiple databases. Select One Click Setup to Configure.

You can create Groups which are the blocks that will contain your individual fields. For instance, a Group might be for Contact Info or Salary Requirements. Select Add Group.

Regular Groups are standard blocks of fields. To create one, just give the group a name before selecting Done.

A Shortcut group allows you to insert windows to your attachments, resume, notes, interviews, keywords, etc. in the screen. If you add one of these, it will be added to the bottom of your layout, where you can then specify what will go into it.

After adding a group, click in the Group then select 'Click to set field' to view a dropdown of predefined and custom fields.

Drag and drop fields to any area within the group.

To remove a field, click the field's name and choose the Delete Field link which will appear.

The mini-menu on each field allows for the marking of a field as 'Required' as well as to set a default value for the field.

The menu at the top right corner of the Customize window includes options for managing and re-naming your record layout tabs.

Select Save from the menu when your changes have been completed.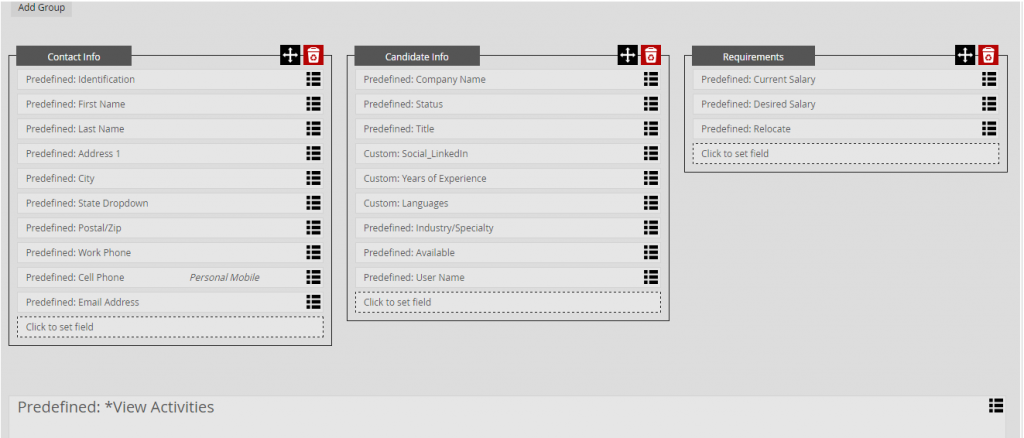 Special Record Layout Customizations
Based on the type of record layout you are customizing, there are some special options available.
Name Records
Select Configure Status from the menu at the top right corner of the layout editor to choose which status options are available for your name records.
| | | | | |
| --- | --- | --- | --- | --- |
| Reference | On Assignment | Candidate | Employee | Internal |
| Hiring Authority | Manager | Offer Accepted | Placed | Contractor/Temp |
| Developed/Qualified | Submitted | Unverified | Vendor | Not Available |
Position Records
The menu at the top right of a Position layout gives you have an option to Configure the 'Share' options on the layout.
| | | | |
| --- | --- | --- | --- |
| Delicious | Direct URL | Apply URL | Embedded Link |
| Facebook | Google | LinkedIn | MySpace |
| PIPL | SlashDot | Twitter | Yahoo |
| Xing | | | |