Transaction Reports
Users may generate the Transactions added to Companies, Names or Position Records within a specific date range. Users may also filter by User Names or Rollup List. The report generated includes the Transaction Date, User Name, Company/Name/Position, Description and Amount. The items are calculated and the total is provided at the end of the report. And bar and pie charts are provided on subsequent tabs.
Sample Transaction Report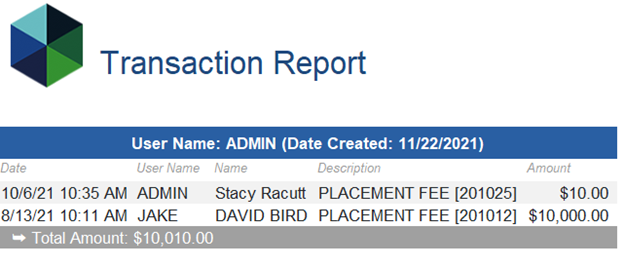 User Activity Report
Generates a listing of the number of Names Entered, Company Activities, Names Activities, Interviews, Positions, Appointments, Commissions, Placements, Letters, or Stage Changes written by each user. The report can be sorted by record count or user name.
Sample User Activity Report (Names Added)

Field Distributions (Names) Report
Provides the ability to select a pre-defined or custom field and generates a list of the values and number of records with the value. This report can be sorted by Field Name or Count.
Sample Field Distribution (Names) Report (For Cities)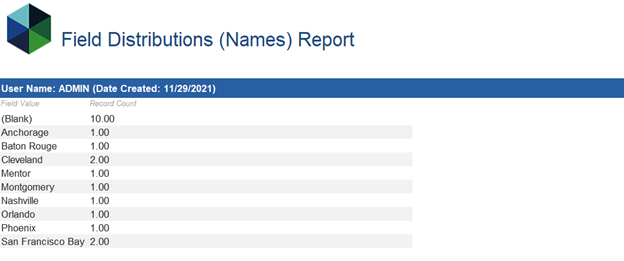 Activity Types Distribution Report
Generates a list of Activity Types, Activity Results, Activity Description, and the Number of Activities written. Filtering options include Date Range, Record Type, and User Name. User may also group results by user or combine totals, limit to users, sort by Activity Type or Description, and limit the list to the Activity Type table (omits system-generated activities).
Sample Activity Types Distribution Report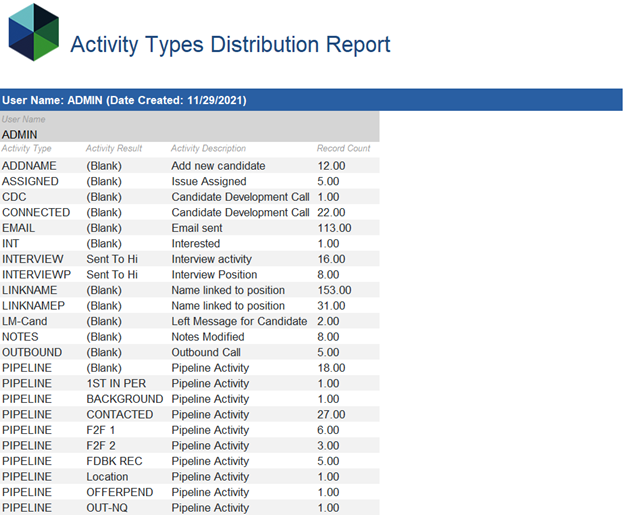 Posting Reports
The posting report is for listing and tallying postings to CareerBuilder and Monster through PCR. User can generate the report based on date and job board. Resulting report includes the Job Title, Job ID, Date Posted (or reposted or removed), and Company/Division Name. Additional tabs of the report include totals for Postings, Reposted, and Removed.
Metrics Report
Generates a report of all Activity Types and Statuses generated by each user and the count of each Activity Type and Status. This report is generated by Date Range and User Names, and includes a total for all users selected.
Sample Metrics Report

Duplicate Companies Report
This report generates a list of potential duplicate company records with the ability to merge records. To learn more visit learning.pcrecruiter.net/site/merge-duplicate-records/
Duplicate Names Report
This report generates a list of potentially duplicate Name records with the ability to merge records. To learn more visit learning.pcrecruiter.net/site/merge-duplicate-records/
Generated Reports
This report allows you to see what reports users are running and how many results are being returned. The report requires a Date Range to be ran, but can also be filtered by a specific report or a username. The resulting report will include the following:
User Name
Report Name
Date Ran
Records Returned
Filters
Sample Generated Report