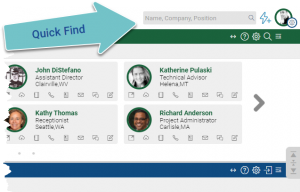 The Quick Find is a really handy way to get to the records you're currently dealing with and to perform common tasks with them. The Quick Find box is located in the upper right corner of your main PCRecruiter screen.
The Quick Find will look for the entered search term in the following fields all at once:
Name Record:
First Name
Last Name
Company Name
Cell Phone
Work Phone
Home Phone
Email Address
Title
Name Custom fields with the type "PHONE"
Name Custom fields with the type "EMAIL"
Company Record:
Company Name
Phone Number
Website/Email Address
Company Custom fields with the type "PHONE"
Company Custom fields with the type "EMAIL"
Positions Record:
Job Title
Position Id
Company Name
Contact Name
Contact Email
Note: The pre-built alternate phone and email fields in the database are not searched by Quick Find.
Three rows of Record Cards for Name, Company, and Position results will appear automatically when you have finished typing. Above each row is an indicator of the number of matches displayed and an 'Add' button for creating a new record of that type.
Each row will display up to 30 matching records, sorted with the most recent date of Activity or changes to the record to the left. If there are more results than can fit on the screen at once, left and right arrows will appear.
Match Similar Terms
If no exact matches are found for the entered term(s), the Quick Find returns any records that would match the term if any two characters were changed. This can be helpful if you're not exactly sure of the spelling that was used on the record or if the record you're seeking contains a spelling error.
In the example below, the Quick Find term entered was "willey". In addition to the one exactly matching name record (Willey Openshaw), the system has returned Company Records with 'Wiltey', 'Wiley', 'Riley' in the fields, as well as a Position with 'Wallet' in the Job Title.