IBM Kenexa Assess is a third party integration giving users the ability to send assessments during the pipeline process. Please note; you do need to have an IBM Kenexa account to move forward with this integration. Once you have an account, contact PCRecruiter Support to activate this function.
Using Kenexa Assess
It is recommended that you use sample data at first when testing Kenexa (i.e. your name and email address).
Sending an Assessment from Name Record
Go to

a Name

Record

From the action menu select

Kenexa Assessment Request

Confirm email address is correct

Click

Next

Select

Alias Address

Change

Subject

(or leave as is)

Change

Body

of Email

You may add/delete/edit the text

Do Not edit the fields in brackets

Confirm that your Signature or Stationery is correct

Click

Next

Search and Check each Assessment you would like to send

Search by Description or Type

Optional:  You may click on

View Selected Assessments

to view all assessments that you have checked prior to going to the next page

Click

Request Assessments

when done. Email will be sent at this time.
Sending an Assessment from a Pipeline
Go to a

Position

Record with Candidates in the

Pipeline
Drag and Drop

one or more Candidates into the Invited folder

Confirm email addresses are correct

Click

Next

Confirm the Alias Address, Subject, and Body are all correct (email is sent as BCC)

Click

Next

Search and

Check

each Assessment you would like to send

Click

Request Assessments
Please Note:  Candidates will move to the Completed folder when they have finished all of requested assessments.
Results
From the Pipeline, Click on Results for any candidate that has been sent and/or filled out an Assessment. Please note the Kenexa field will need to be showing in your Pipeline Layout
From the Name Record, Select Kenexa Assessment Results from the dropdown on the right.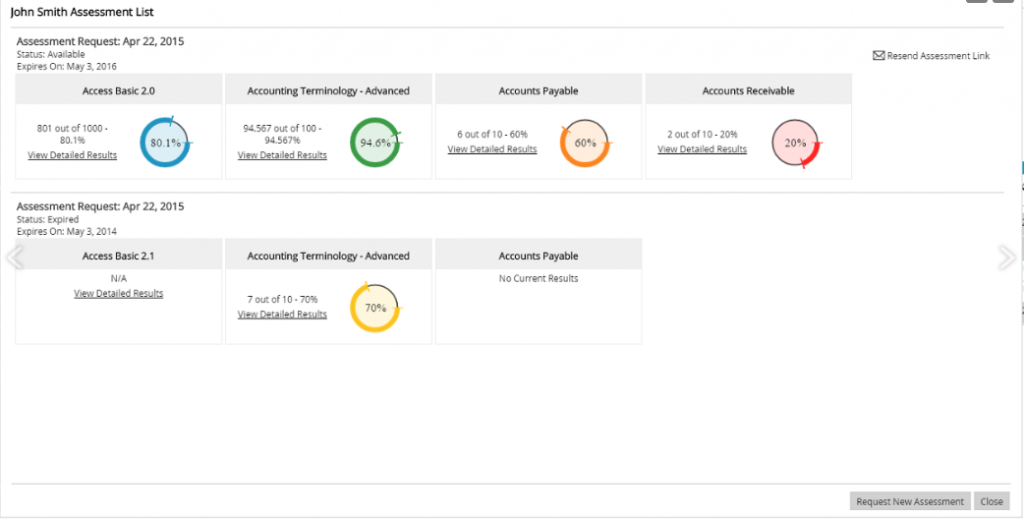 Assessment Section options
Link Expiration
When an assessment list is requested the link returned is given an expiration date (this is in Prove It).
If PCR determines the link has not expired:
Status: Available

Resend Assessment Link Action shows on top Right
If PCR determines the Assessment has expired
Status: Expired

Resend Link does not appear
Assessment Scores
For most Assessments a value is returned for the question vs questions answered correctly. A percentage value is also returned.   The color of the score image is based off of the percentage.

Some assessments return with no actual score.
View Details Results
Each assessments includes a View Detailed Results link. When clicked it loads your website with the results.
Resend Email Page
When emailed from this screen the Assessment link used will be only for the request which was clicked in. It will not resend every link.
Request New Assessment
The ability to request a new assessment has been set on this screen as well. Assessments requested here will not move the record for any pipeline they may be in.